If you're looking for wrist tattoos for women, we've curated 63 ideas to inspire you!
I have been toying with the idea of getting a second tattoo for quite some time. I got my first when I was 20-years-old, and while I don't regret the experience of it all, I wish I'd chosen a design with more meaning. I was more interested in everything a tattoo represented at the time – independence, rebellion, and becoming my own person – and instead of having something designed specifically for me, I hastily chose something from a wall display, signed my waiver, and the rest is history.
It wasn't the most intelligent thing I've ever done, and I promised myself that if I ever got another tattoo, I would be much more intentional and deliberate with the design I chose.
I've been searching, bookmarking, and pinning wrist tattoos for women on and off for about a year now. I've spent countless hours thinking through what I want my tattoo to represent, and I've sorted through thousands of tattoo designs. I've considered symbol tattoos like butterflies, hearts, feathers, flowers, infinity signs, and arrows. I've fallen in love with dozens of elegant bracelet tattoos, and since I have a thing for quotes, I've searched high and low for the perfect combination of words to express myself as well. I've even considered inking the roman numerals of my daughter's birthday on my wrist.
There are so many options!
Whether you're looking for small wrist tattoos, wrist tattoos with meaning, bracelet tattoos, or quotes, words, and script tattoos that are unique and powerful, here are 63 tattoo designs to inspire you!
21 Small Wrist Tattoos for Women
If you're looking for small tattoos for your wrist that are unique and powerful and go beyond basic cross, arrow, butterfly, heart, and floral designs, these ideas are a great place to start. From words, to quotes, to script, to roman numerals, and beyond, these tattoo ideas combine elegance with meaning in the most beautiful way.
21 Bracelet Wrist Tattoos for Women
The beautiful thing about a bracelet tat is that it can be as simple or complex as you want it to be. It all depends on your style. These designs also work as anklet tattoos, and you can personalize them with different sizes or by combining 2 or more together.
21 Word and Quote Wrist Tattoos for Women
Is there anything more beautiful than simple scripts and words tattooed on your wrist? If writing, lettering, quotes, and script are your thing, these wrist tattoos will inspire you.
Choosing a tattoo design is a very personal thing, and I learned from experience the importance of taking the time to consider not only the design of your tattoo, but also the placement and size, and how it will change as you age. If you're looking for wrist tattoos for women, I hope this collection of ideas inspires you to find something meaningful for you!
If you liked this collection of wrist tattoos for women, please share this post on Pinterest!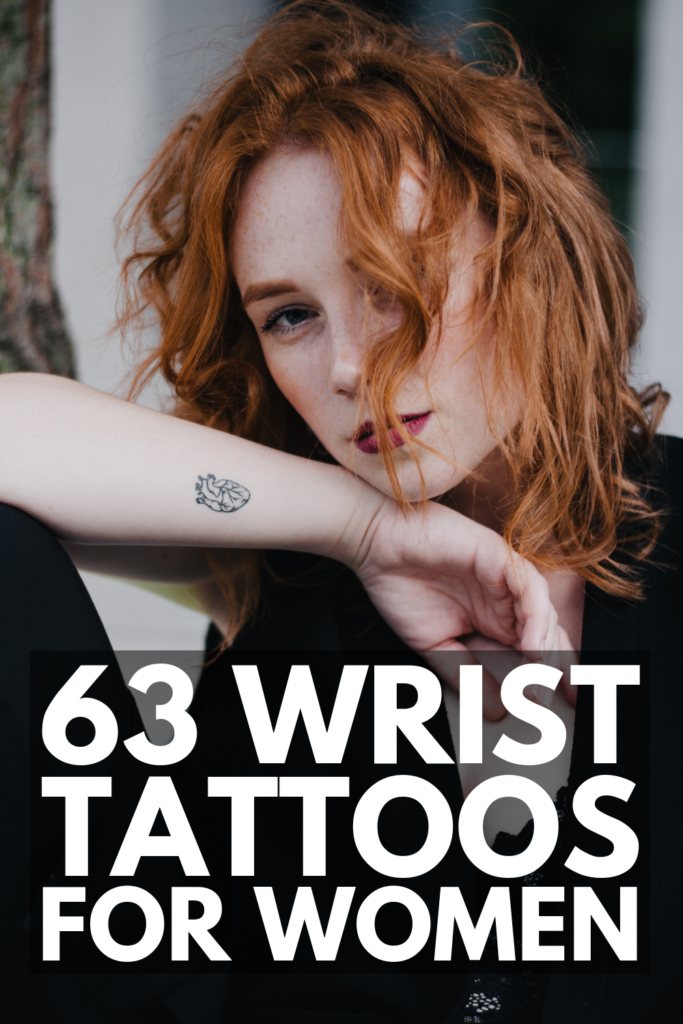 And if you're looking for more tattoo inspiration, please follow our Tattoo Design Inspiration board, where we share all kinds of great ideas we find each day!