Weight loss is notoriously difficult to maintain, even after following a strict diet. After losing weight, many people go back to their old eating and lifestyle habits, which typically leads to weight gain. If you're looking for a way to maintain weight loss, consider a reverse diet, where you gradually increase calories while minimizing weight gain. Reverse dieting helps restore your metabolism, boosts your energy levels and normalizes hunger hormones. If this sounds like just what you've been looking for, check out our tips and tricks for how to reverse diet without gaining weight.
What is Reverse Dieting?
Reverse dieting is when you slowly introduce more calories into your diet over multiple weeks or months, revving up your metabolism and helping your body burn more calories throughout the day. It's a strategy used to prevent rapid weight gain and restore your metabolism after following a low calorie diet. Reverse dieting is popular amongst bodybuilders and competitive athletes who want to increase their energy levels while maintaining weight loss and body composition. The goal of reverse dieting is to balance your hunger hormones, metabolism and energy in a way that helps you eat more calories without gaining weight.
What Are the Benefits of Reverse Dieting?
Reduces the risk of weight gain by normalizing hunger hormones
Boosts your metabolism
Allows you to eat more throughout the day
Increases your energy
Boosts your mood
Better concentration
Increased muscle mass and strength (especially when paired with strength training)
Balanced appetite due to normalizing levels of leptin (a hormone that regulates appetite and weight gain)
How to Reverse Diet without Gaining Weight
1. Go Slowly
When you're following a reverse diet, it's best to reintroduce calories gradually. And keep in mind, the more restrictive your diet was, the longer your reverse diet will be. Typically, reverse dieting involves increasing your daily caloric intake by 50 to 150 calories per week for 4 to 12 weeks until you're at your desired caloric intake. You can also try increasing your caloric intake by 5 to 15% per week, until you're back at your normal level.
2. Track Your Daily Intake
Since reverse dieting consists of such small incremental increases, it's smart to track your daily calories. Use a food tracking app to estimate how many calories you consume each day from food and drinks. This will help you stay on track and see if you're sticking to your new daily calorie needs. Try to be as accurate as possible in your tracking and consider using a food scale to be as precise as possible.
3. Consider Your Lifestyle
The rate at which you take your reverse diet depends on how quickly you want to restore your energy levels. If you want to get back to a highly active lifestyle and restore your energy levels quickly, you may want to increase your caloric intake by 15% right away and then increase by 5% each week for the remaining time. The 5% approach will take you longer to reach your calorie goal, but may help you reduce weight regain.
4. Get Back to Exercise
If you were following a low-calorie diet, you likely didn't have a ton of energy to do super intense workouts. Exercising is extremely important to your overall health and can help you keep your weight off. As you're increasing your calories and getting more energy back, you can also increase your physical activity. Add in more intense cardio to your routine, and strength training will help you increase your muscle mass and strength, which you may have lost during your diet.
5. Eat the Right Calories
The extra calories you're consuming each week should come from carbohydrates, since they are least likely to be stored as body fat. If you really prefer fat, you can add a bit of both. Your protein intake can stay the same throughout the diet because protein needs are typically calculated for body weight rather than calorie consumption. Make sure you're consuming complex carbs like quinoa, brown rice, oatmeal, vegetables, sweet potatoes, black beans and lentils, and healthy fats like avocado, fatty fish, flaxseeds, nuts and whole eggs.
6. Take Your Waist Measurement
Your body weight will likely fluctuate throughout the week, so take your waist measurement weekly when following the reverse diet. If your waist measurement stays the same, it's a good sign you're not gaining any body fat, even if your scale weight increases. Your body weight may increase slightly since you're adding more carbs to your diet. This is due to your body replenishing its carbohydrate stores in your muscle and liver. This will help you make progress in your weight training at the gym.
If you're worried about gaining weight back after a diet, reverse dieting may be worth a try! Follow these tips and tricks to see success and keep the weight off while increasing energy and boosting your metabolism.
This post contains affiliate links.
Did you find this post on how to reverse diet without gaining weight helpful? We'd love it if you shared this post on Pinterest!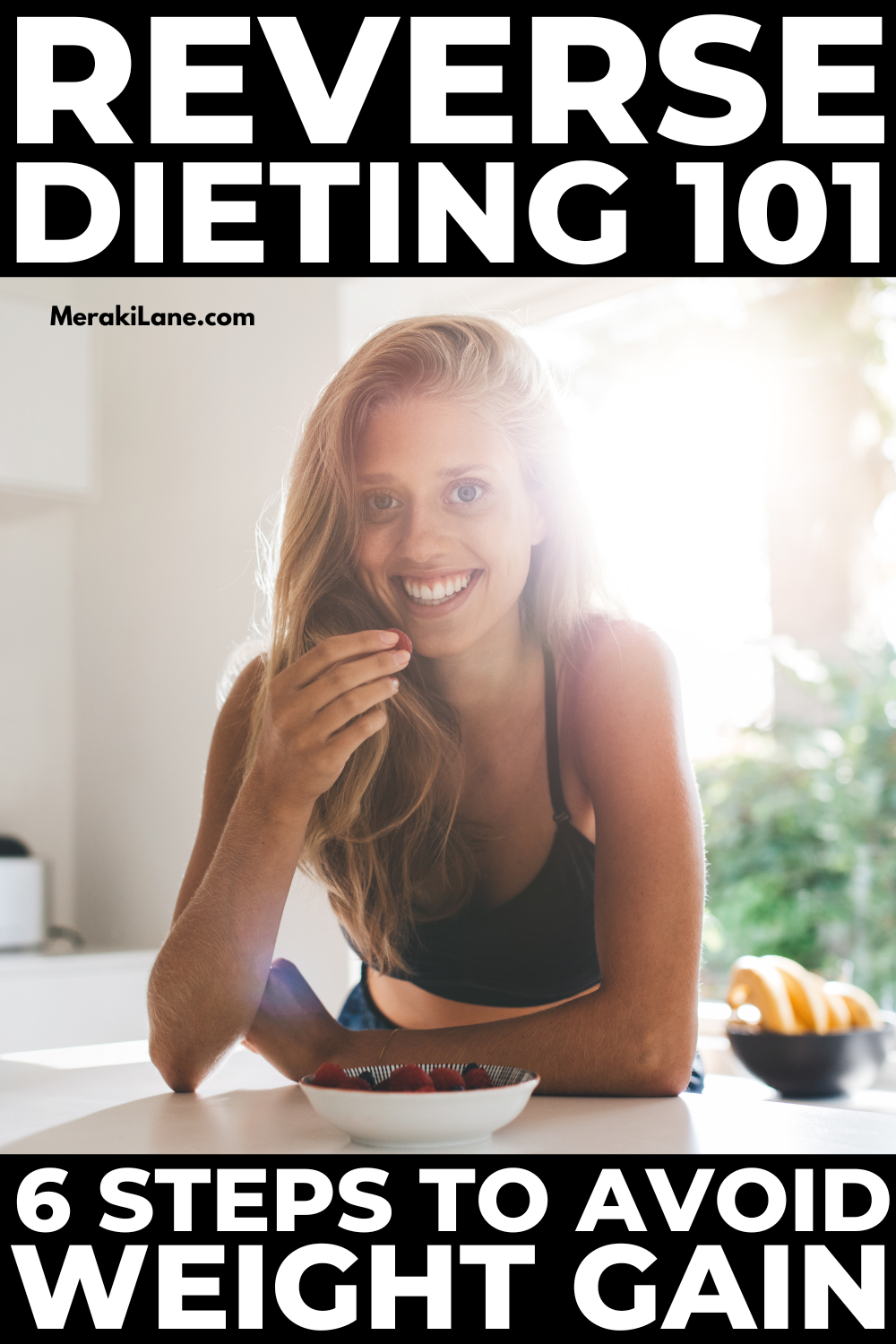 Looking for more weight loss tips and tricks? Follow our Health Board on Pinterest!