Want to dress up your favorite drink? Try adding some decorative ice cubes! They not only make the everyday beverage a little more fun, but they also make an easy drink garnish for special occasions.
Whether you choose a traditional cube shape or something more playful, a simple ice cube can add a pop of color and a splash of flavor. We're teaching you how to make decorative ice cubes with these 17 fun tips and ideas.
What Are 'Decorative Ice Cubes'?
For most of us, ice is an important part of just about any beverage, helping to keep our favorite drinks perfectly chilled. But why settle for your average ice cubes?
You can add decorative elements like fruit, flowers, herbs, and even glitter, to create your own decorative ice cubes. These playful cubes can dress up even the simplest of beverages, adding color, flavor, and preventing it from getting watered down.
Get started making your own decorative ice cubes with these 6 essentials.
6 Decorative Ice Cube Essentials to Invest In
Silicone ice cube trays – It's important to start with the basics. Grab a set of these stackable and flexible silicone ice cubes trays to help you create that ideal ice cube shape every time.
Ice sphere molds – This silicone mold will have you creating perfectly round ice spheres in no time. The tray is easy to fill while avoiding any leaks, and because of their size they will melt slowly, keeping your drink chilled longer.
Water purifier – While you can certainly use any type of water to make decorative ice cubes, purified water will help you avoid any white cloudy spots. If the water you're using contains impurities, air bubbles are more likely to form as the water freezes, creating not-so-clear ice. Instead, use filtered water from your refrigerator or a water purifier such as a Brita pitcher when creating your ice cubes.
Edible flowers – One of the simplest ways to spruce up your ice cubes is with edible flowers. It's important to make sure that the flowers you're using are food-grade and safe for consumption. You can find an assortment of edible flowers online or through your local garden center.
Electric kettle – Boil water for your decorative ice cubes quickly and easily with this electric kettle. Easy to use, it will help purify your water, making it crystal clear.
Playful ice molds – Get creative not only with what you add to your ice cubes, but also with the shape. You can find plenty of fun molds available, including these beautiful rose-shaped ice molds.
How to Make Decorative Ice Cubes
Prep your water – If you're not using filtered water to create your ice cubes, you can boil your water instead. Boiling water will help to remove impurities that create cloudy ice. For the best results, boil your water once, let it cool completely, then boil it a second time.
Clean your molds – Make sure your ice molds are completely clean before you begin. Wash and dry your molds ahead of time to remove any dirt or impurities that could make your decorative ice cubes hazy.
Do it in stages – Start by filling each section of the ice cube tray halfway with water. If you're adding a decorative element such as fruit or flowers, dip them in water first before placing them in the sections. Finish by filling the rest of each section up with water then freezing.
Add a few flowers – Edible flowers or flower petals add a splash of color and texture to an otherwise boring ice cube. Learn how to make your own with this tutorial from Baking for Friends. Like we mentioned before, always make sure to buy food-grade flowers. You can also grow your own, making sure to avoid using any pesticides.
Make a better iced coffee – Forget watered-down iced coffees and lattes. Instead, try making a batch of these Coffee & Milk Ice Cubes from The Sassy Life.
Get creative with fruit – Adding berries to your decorative ice cubes will help sweeten your beverage without the extra sugar. These Fruit Ice Cubes are refreshing for summer or any other time of the year.
Have a spa day – You can feel like you're at the spa anytime with these Flavored Ice Cubes. Filled with cucumber, lemon, ginger, or even green tea, they are easy to make, and so very pretty.
Make them sparkle – You may have seen edible glitter used on baked goods like cakes and cupcakes. But did you know that it also works well when making decorative ice cubes? Grab some edible glitter in a variety of colors, including rose gold, yellow, and turquoise.
Add some herbs – If you have a garden full of fresh herbs, try adding some to your ice cubes for a fresh dose of flavor and a burst of color. They make the perfect addition to any cocktail or mocktail. Try adding some mint, lavender, or basil with this recipe for Herb Ice Cubes.
Create some layers – Fruit juice is the star in this recipe for Layered Ice Cubes. You'll have fun coming up with your own favorite combination of colorful fruit juices.
Avoid lumps and bumps – As water freezes, it expands, often creating little lumps and bumps around the outside of the ice cubes. To remove them, use a knife to carefully tap or cut the excess ice off, and then put back into the freezer until you're ready to use them.
Now that you know how to make decorative ice cubes, you can have fun mixing and matching to create your own fun drinks.
This post contains affiliate links. 
If you loved learning how to make decorative ice cubes, please share it on Pinterest!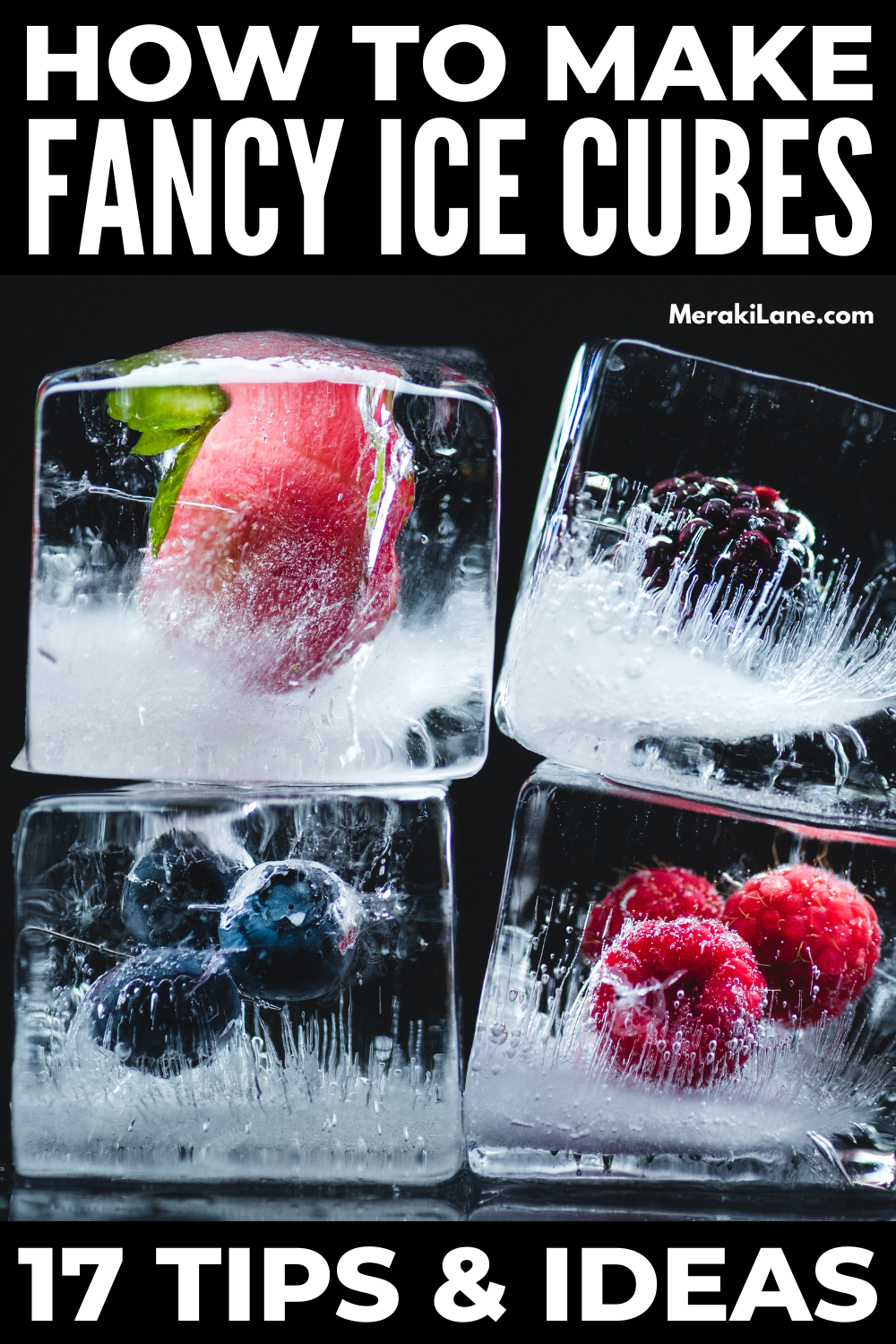 And if you're looking for more fun ideas, please follow our Food and Drinks board!