A couple of weeks ago, I bought my first set of professional makeup brushes, and I cannot tell you how much they've changed my appearance.
I have finally mastered the technique of blending my eyeshadow properly.
And I am amazed at what a difference a proper set of brushes can make when contouring and highlighting my face.
Overall, the brushes have been one of the best purchases I've ever made, but no matter how many times I practice, I have been unable to teach myself how to apply eyeliner with an angled brush. I don't know if it's because my hands aren't steady enough, or my eyes are just oddly shaped, but each time I try to apply gel liner to my lids, I end up looking like a hooker when I drop my daughter off at preschool.
Which isn't cool.
So I've spent A LOT of time on YouTube lately, and after trying all of the the techniques I learned, I have FINALLY figured out how to apply gel liner with a brush.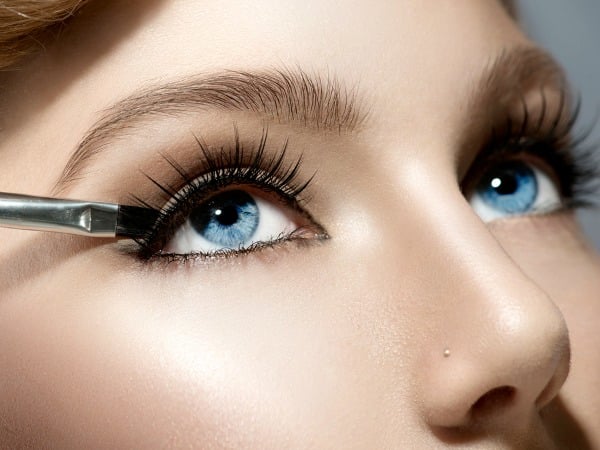 And since I'm all about making the lives of my fabulous readers easier, I absolutely HAD to share these tutorials with you.
1. How to Apply Winged Gel Eyeliner by Jaclyn Hill
I love this tutorial because Jaclyn makes the process of applying gel eyeliner look so SIMPLE, and while this is a winged eyeliner tutorial, you can easily leave the wing off for a less dramatic look. Oh, and I was particularly excited that she suggests the Maybelline Blackest Black Gel Eyeliner over the MAC Black Ivy Fluidline Eye Liner Gel because the Maybelline product is more within my price range!
2. How To Apply Eyeliner – Simple Eyeliner Look by Teni Panosian
When I first set out to learn how to apply gel eyeliner with a brush, I was debating between an angled eyeliner brush and a smaller, more basic brush, and after watching this tutorial, I knew the angled brush was for me. It just seems less fussy, if that makes any sense. Give this tutorial a watch and you'll see what I mean!
3. Eyeliner Brush Tips | Makeup Secrets by Tati
This tutorial doesn't include techniques for APPLYING eyeliner with an angled brush, but it is FILLED with fabulous tips and tricks on how an angled brush can help perfect your look. I particularly love Tati's tips for using an angled brush to set my eyeliner with eyeshadow, applying mascara to my bottom lashes, and for correcting eyeliner mistakes (which I often make)!
4. How To Use an Angled Liner Brush by MakeupGeekXtra
While I was looking around our local beauty shop with my 3 y/o the other day, I noticed a bin of 150 degree angled liner brushes and wondered if they would be easier to use than your average angled eyeliner brush. So I did some poking around on YouTube, and this tutorial convinced me to order a JAPONESQUE 150 Degree Pointed Liner Brush because I love that you can control how thin (or thick!) your eyeliner is when you use it! I wish this tutorial had gone into more detail, but if you use the techniques from the other tutorials I've shared, I am sure you can master this brush in NO time!
5. Essential Eyeliner Techniques: Defined, Winged or Smokey by Sephora
This isn't the best eyeliner tutorial in the world, but if you like the dramatic look of gel liners but aren't necessarily a fan of winged eyeliner, the first technique in this tutorial is for you. It's called the "DEFINED EYELINER" look, and I really love it. Oh, and the tip of applying pencil liner between your upper and lower lashes really does make a difference in making your eyes pop!
This post contains affiliate links.
If these tips helped you on your quest to figure out how to apply eyeliner with an angled brush, please share them on Pinterest!
And if you're looking for more tips and tricks to make yourself look and feel gorgeous, please follow our Beauty board where we share all kinds of fabulousness!