About 6 months ago, I started having trouble with my eyes. It started with what I thought was a run-in with conjunctivitis (also known as 'pink eye'), which I thought I had picked up from my daughter's school. I treated it with over-the-counter eye drops, washed my hands a million times a day, spent a fortune replacing my make-up brushes, eye shadow palettes, eyeliners, and mascara, and gave myself a pat on the back when I managed not to spread it to anyone else in my family.
Three months later, I woke up with red, dry burning eyes again, went through the same process, and breathed another sigh of relief when I managed not to infect anyone in my household, but when the dryness and blurriness didn't dissipate, I started to think something else was going on.
My eyes were so dry I could barely open them in the morning, I constantly felt like I had a layer of goop over my eyeballs, my left eye was constantly watering despite feeling gritty and dry, and it was starting to interfere with my life.
So when I woke up with red, sore eyes for a third time in 6 months, I decided it was time to make an appointment with my eye doctor, and she confirmed what I was experiencing was not, in fact, pink eye. She explained that my symptoms pointed to dry eye syndrome, and that the periodic irritation I had been experiencing was likely due to me introducing bacteria into my eye each time I wiped at my eyes.
I've spent a lot of time researching and trying different remedies for dry eye over the last couple of months, and I'm so excited to be partnering with Rohto to share my best tips for treating dry burning eyes.
But before we get to that, let's review some of the basics…
WHAT IS DRY EYE?
Simply put, dry eye occurs when you don't produce enough tears – or enough quality tears – to keep your eyes lubricated, which can lead to a whole host of symptoms, including:
Burning
Itchiness
Soreness
Redness
Blurriness
Your eyes may also feel tired and heavy, and you may be more sensitive to light than usual.
WHAT ARE THE CAUSES OF DRY EYE?
Dry eye syndrome can occur as a natural part of the aging process, especially in women due to the hormonal changes caused by menopause, but it can also be caused by certain medications and medical conditions, as well as in response to environmental conditions (think: smoke exposure and climate changes), and long-term use of contact lenses.
WHAT ARE THE BEST REMEDIES FOR DRY EYE?
Warm Compresses. Applying a warm compress to your eyes will not only help soothe dry burning eyes, but it can also help soften and unplug your oil glands to ensure your tears contain enough lipids to keep your eyes moisturized. You can accomplish this by applying a warm wash cloth overtop of your eyelids two times a day for 10 minutes, but bear in mind that the cloth must remain warm for the entire 10 minutes, so you will need to re-heat it several times for maximum effect. If you feel this is too time-consuming, consider making a rice bag (which stays warm longer) by placing uncooked rice in a sock, heating in the microwave for a few minutes, and placing it overtop of your eyes after testing that it's reached an appropriate heat level.
Omega-3 Fatty Acids. Healthy fats are essential to our health, and play a huge role in the health of our eyes. Consuming foods that are high in omega-3 fatty acids like fatty fish, ground flaxseed, chia seeds, sesame seeds, almonds, and walnuts is a great natural remedy for dry eye.
Wear Glasses. Since air movement can exasperate dry eye, consider wearing protective glasses when spending time in windy conditions. Wraparound glasses and sunglasses are best as they provide the most protection for your eyes.
Invest in a Humidifier. If you live in a cold climate, using a humidifier during the winter months can help add moisture back into the eye and provide relief from dry burning eyes.
Drink More H2O. There are so many benefits to drinking 8+ glasses of water each day, and relief from dry burning eyes is one of them! Mild dehydration can make dry eye syndrome worse, so make sure you are consuming enough H2O throughout the day.
Eye Drops. While natural remedies such as warm compresses, protective glasses, and omega-3 fatty acids can help alleviate the symptoms of dry eye syndrome, they can be time-consuming and don't always provide complete relief. Thankfully, there are other over-the-counter remedies you can use, and I have had the most luck with Rohto Dry-Aid eye drops, which provides relief from 5 common symptoms of dry eye: dryness, irritation, grittiness, burning, and stinging.
I've tried several dry-eye drops in the past with little to no luck, but Rohto Dry-Aid has completely changed my life. It's the only all-in-one treatment I've found that offers complete relief of my symptoms, and since it's quick and easy to use – and offers long-lasting comfort – I never leave home without it!
Here's what I love most about Rohto Dry-Aid:
It's available without a prescription
It works FAST!
It's non-blurring
It's safe to wear my contacts 15 minutes after use
I can use it up to 4 times a day if needed
The bottle is so small, I can take it ANYWHERE!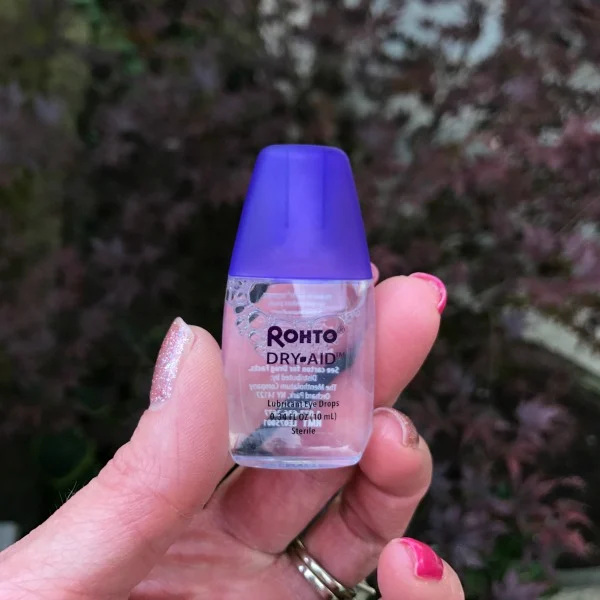 Rohto is the #1 Global Eye Care brand, and their non-blurry tear repair formula has been clinically shown to provide longer lasting relief versus the leading brand. New Rohto Dry-Aid helps restore the natural tear film to create a uniform moisture shield that's clinically shown to provide superior comfort and soothe dry eyes for up to 12 hours, and in a clinical study, Rohto Dry-Aid delivered consistent and continuous relief over time and was rated highly for its refreshing feeling while delivering significant improvements in quality of life.
Unlike other over-the-counter dry eye drops that only work on one layer of the tear file, Rohto Dry-Aid is formulated with Liquidshield technology that works in a unique way to restore moisture to the tear film by working on all three layers to mimic a stable natural tear.
Contrary to popular belief, dry eye doesn't have to keep dry eye sufferers from doing what they love. If you suffer from dry burning eyes, I hope this collection of remedies for dry eye offer you as much relief as they have offered me.
Rohto Dry-Aid is currently available at major retail locations where over-the-counter dry eye drops are sold and online at the Rohto website.
Don't forget to follow Rohto on Facebook, Twitter, and YouTube.
If you are plagued with dry burning eyes and you found this collection of remedies for dry eye syndrome helpful, please share this post on Pinterest!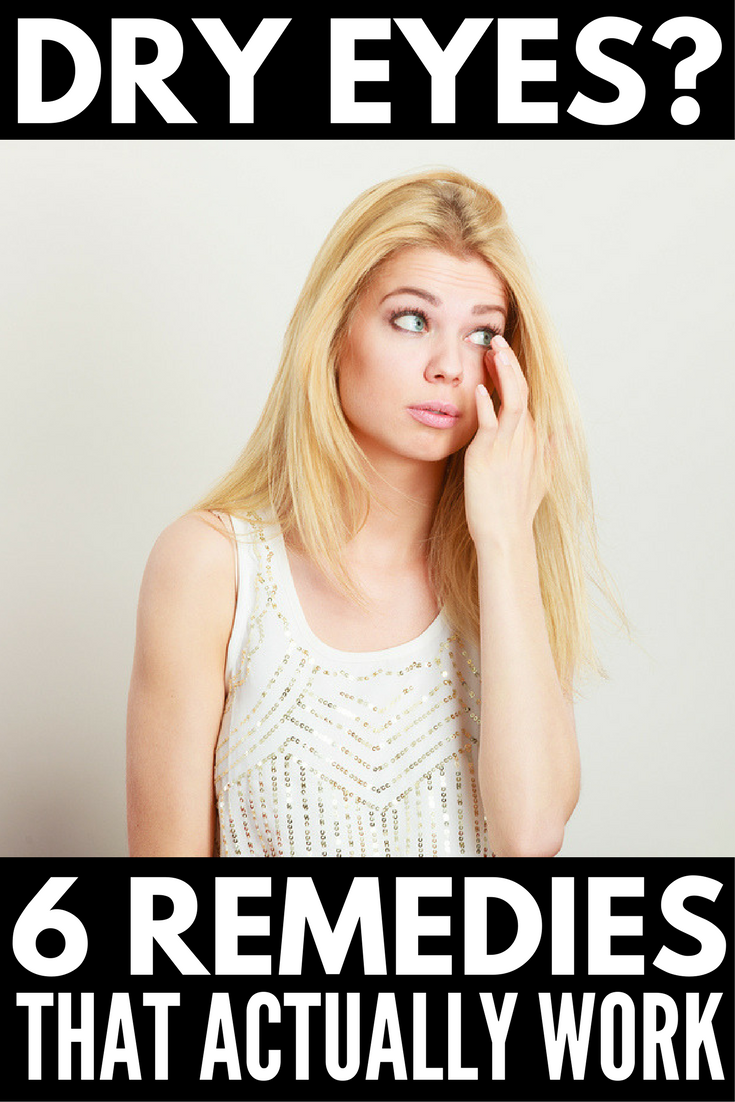 And if you're looking for more health tips and tricks, please follow our Health board where we share all kinds of great ideas!
This is a sponsored conversation written by me on behalf of Rohto. The opinions and text are all mine.