When it comes to working with autistic children, whether you are a parent, teacher or caregiver, having the proper tools available to you can make all the difference in how the child learns, grows and behaves. There are countless books available, and nothing can truly replace the advice of professionals. But when you are working with a special needs child on a day to day basis, having your own set of tools is imperative. Thankfully, there are apps available that are truly beneficial for special needs kids, and they are available to anyone at the touch of a button. I've collected the best apps for kids with autism, all available for download right now.
What is Autism?
Autism is a condition or range of conditions that presents with challenges with social skills, communication and behaviors. Autism Spectrum Disorder (ASD) can present its own set of unique strengths and differences. There are many different types of autism, and there are many different causes for it, including a combination of genetic and environmental influences. Children with ASD can be nonverbal or have limited communication skills. They may have repetitive behaviors, sleep disturbances, anxiety and sensory issues.
Autism is usually noticed between the ages of 2 and 3, though it can often be caught earlier.
How Do I Know if My Child Has Autism?
Autism requires a diagnosis by a professional. There are, however, signs and symptoms that a parent may notice to help them determine if a child should be evaluated. Keeping a careful eye on your child's behavior in the first couple of years of their life will help you catch any of these possible signs. For instance, children who are not smiling, laughing or affectionate by six months old may have a problem. Similarly, if they make limited or no eye contact by that time, it may be an early sign of autism. Keep an eye on their communication skills. Babies who are not making babbling sounds, do not smile, reach or wave, or those who do not respond when their name is called may need to be evaluated by a physician.
My Child Has Been Diagnosed With Autism. What Now?
While parenting a child with autism can present many difficulties, it is important to remember that these kids are incredibly gifted. It will be important to you to contact your state's Early Intervention Offices to create an Individualized Family Service Plan. Often these will include behavioral, speech, occupational and feeding therapies to help your child to thrive. Once you have your plan in place, you can start thinking about being proactive in helping your child along their journey. This can include the best apps for autism.
Ipad apps for kids with autism are readily available and include a broad range of skills focus. Whether they need language help, behavioral coping mechanisms or just a brain break with a fun game, here are nine of the best available, all with evidence and research to back them up.
Best Apps For Autism
"The top-rated assistive communication solution for non-verbal and speech delayed children, as featured in Apple's "Accessibility" AND "Special Education" Collections of recommended iPad Apps."
This app is geared toward children who are non-verbal or who have developmental delays or difficulty learning language. It is the only speech generating (AAC) app that focuses on language learning and comprehension rather than just 'buttons that speak.' It has a child-friendly visual interface called the Word Tree™, which allows your child to choose their words by branching out through various pathways. It focuses on the relationships and connections between words and helps your child develop much-needed language skills.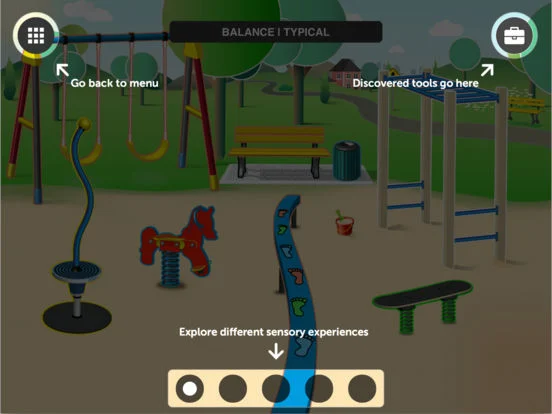 "An innovative, new approach to learning about autism using an immersive play style."
This educational app helps to differentiate between sensory experiences common to those on the autism spectrum, as well as offering tools and strategies to help navigate through a busy sensory world. It is aimed at all ages, as well as those who support them. This innovative app helps shed light on the misunderstood world of sensory processing disorders, stimulating conversation and offering problem-solving solutions.
"An innovative AAC app that gives a 'voice' to people who have difficulty verbally communicating their wants, needs or emotions."
This app utilizes hundreds of different Mands (requests), identified as different emotions, items and places your child can press to hear that item spoken aloud. It features options presented based on the time of day (breakfast, playtime, dinner, etc) or even the location of the moment (home, school, restaurant). It helps make the child comfortable in any given situation, knowing that they can communicate their needs with minimal effort. The Bronze subscription of the app is totally free, and it includes the ability to create up to 8 additional icons, 4 schedules and 4 contexts. The silver and gold subscriptions create added functionality for those who would benefit from it. In addition, a portion of subscription revenue goes toward funding Autism charity programs such as iPads4Autism.net and BridgingApps.org.
"LAMP™ is a therapeutic approach based on neurological and motor learning principles as well as clinical experiences that address the language development and communication needs of children with autism."
LAMP Words For Life™ is a full English vocabulary AAC app that is a therapeutic approach to language development. It provides a consistent motor pattern for words and a systematic way to develop communication skills while helping children to develop unlimited language growth. It is appropriate for all ages and communication levels. It is symbol-based for those who are not yet literate, though the symbols are paired with text to help support literacy development.
"When the studying is done, or simply a brain-break is needed, pull this app out for a little fun and frivolity."
This fun app takes elements of the other Learn with Rufus educational apps to give your autistic child a chance to relax and enjoy themselves while still developing necessary skills. It's the perfect app for distracting your child when they are overwhelmed or bored.
"SPEAKall!® is an evidence-based therapy app specifically designed to introduce augmentative and alternative communication (AAC) in autism spectrum disorders and/or developmental speech and language disorders."
This app was designed to help children and adults with little to no functional speech acquire an initial symbol vocabulary while learning the process of constructing sentences. It actively engages the learner in speech and language acquisition, while targeting a range of communication goals. The interface is customizable to the learner's needs, and it will expand as the learner's capabilities expand.
"Visual Routine is a simple, easy to program visual schedule that helps your autistic or special needs child keep a routine."
This is an easy app to help program a visual schedule to help your autistic child or special needs child to keep to a routine. It can be tailored to their individual needs and includes audio feedback, as well as customizable pictures, audio and text. The customization aspects of this app allows you to cater to your child's individual needs and capabilities. You can include your own photos of your child in their own home, doing the tasks to help them to remember the individual steps of their routine. You may also set the audio to help them stay motivated.
"ProxTalker App enables you to easily and quickly create low-tech, highly customized visual communication boards."
This is a very simple solution for parents, teachers and caregivers who want to support their nonverbal children. It allows you to create visual communication boards that support personal needs, classroom activities, schedules, calendars, task lists and expressive and receptive language. Simply set up the board within the app, arrange the photos, symbols and text onto the board and then print or email it for everyday use. You can easily use your own photos, though the app includes various symbol libraries you can purchase, as well.
"Social Stories is an ABA app designed to help special needs children and young adults understand social situations and give them tools to respond correctly to their environment, in their environment."
This app is designed for children who find it easier to communicate through visuals than through speech. The picture and text is designed to give each child a visual representation of good behavior, allowing them to visualize what they need to do or understand. The user can create their own story on one or multiple pages to help teach the special needs child how to react in a given situation.
There are many apps for special needs children that will help them to communicate, learn and grow. Finding a program that can really help your child to be more independent and communicative can make all the difference in the world for how they move forward in life. Nothing replaces the child's parent or caregiver's role in their education, but these apps can really benefit anyone involved in the child's life. For more great apps for autistic children, check out the huge list on AutismSpeaks.org.
This post contains affiliate links.
If you found this collection of the best apps for autism, please share this post on Pinterest!
And if you're looking for more autism resources, please follow our Autism board where we share all kinds of fabulous articles each day!