On the morning of my seventh-grade school photos, I sat down at the breakfast table with a face full of blue eye shadow, matching blue eyeliner and mascara, orange blush, and frosty pink lipstick.
And my mother never said a word.
She just continued boiling me an egg and pouring me a glass of orange juice as if it was completely normal for a 13-year-old girl to go to school looking like a hooker.
A few months later, my school pictures arrived, and I had the shock of my life when I saw how ridiculous I looked, and after slamming into the house and tearing a strip off of my mom for letting me leave the house looking like a clown, I threw all of my make-up into the garbage and put my fantasy of becoming a make-up artist on hold.
Sadly, I had a similar experience my senior year when I tried to tweeze my eyebrows to look like Kelly Taylor from 90210, and I've been kind of scared to do anything drastic since.
But time has a way of healing old wounds, and a couple of years ago I finally decided it was time to put my fears behind me and learn how to apply make-up like a pro, and thanks to all of the amazing make-up artists I subscribe to over on YouTube, I'm finally starting to learn the tricks of the trade.
And since I know I'm not the only person out there who struggles with the wonderful world of makeup, I'm sharing my favorite tutorials with you in hopes I can prevent another poor soul from making the same beauty mistakes I once did.
How to apply foundation and concealer by Jaclyn Hill
I love Jaclyn's suggestion of doing my eyes BEFORE applying my foundation as I find it really does make a difference in helping me correct errors and imperfections and getting rid of all of the product that falls on my face when I'm trying to create a smokey eye! Jaclyn uses MAC Mineralize Moisture SPF Foundation, but if you're looking for something a little lighter on the budget, I recommend Revlon PhotoReady Makeup. I find it not only looks natural, but it lasts all day long. Oh, and I stand by her recommendation of the Sigma Beauty F80 Flat Kabuki Brush – it is amazing.
How to contour and highlight like Kim Kardashian by gossmakeupartist
This is a bit drastic for everyday, but it's filled with lots of fabulous contouring tips and tricks, and I love love love the finished look! I can't comment on any of the products used in this tutorial, but after a lot of trial and error, I think the NARS Ita Kabuki Brush (No. 21) is THE brush for contouring, and I cannot say enough good things about Benefit Cosmetics Hoola Matte Bronzer. It doesn't have a shine to it, which makes it look natural compared to some of the drugstore bronzers I've used, and I love how easy it is to blend, that I can make it lighter or darker depending on how much of the product I use and how much blending I do, and that it doubles as a great eyeshadow!
If you're still applying blush to the apples of your cheeks, you're going to want to watch this!
How to shape your eyebrows by Zukreat
This tutorial has made such a difference in not only teaching me where my eyebrows should start and end, and where my arch should be, but in showing me the proper way to shape, tweeze, and wax them as well. I love the trick of using white eyeliner to draw your eyebrows first, and while I'm not confident enough to use wax strips on myself, she makes it look SO easy!
How to fill in and sculpt your eyebrows by Jaclyn Hill
Jaclyn recommends the Anastasia Beverly Hills Brow Wiz in this tutorial and it is hands down THE BEST brow pencil I've ever used. I have strawberry-blonde hair and the "taupe" color works perfectly for me, but there are heaps of other colors to choose from. It's a bit pricey, but well worth the investment, and Jaclyn's trick of applying a dab of concealer with a Sigma E15C Flat Definer Brush is absolutely LIFECHANGING!
I never used eyeshadow primer before watching this tutorial (to be honest, I didn't even known it existed), but after doing some research I decided to splurge on the Urban Decay Eyeshadow Primer Potion and I haven't looked back. Not only does my eyeshadow (even my cheap drug store palettes!) go on smoother, but I never (EVER!) get that annoying grease line on my eyelids anymore.
How to apply eyeliner by Makeup Geek
I love all of Makeup Geek's tips, and this tutorial is no exception. I've been experimenting with a ton of different drugstore eyeliners over the last several months, and I have to say the L'Oreal Paris Infallible Never Fail Eyeliner in black is my FAVORITE. It goes on smoothly, lasts all day, and looks FABULOUS when I apply it to my waterline!
How I make my eyelashes so long by Salice Rose
I was skeptical when I first started watching this tutorial, but Salice not only has a ton of fabulous energy, but she can make even the shortest eyelashes look like falsies using a basic eyelash curler and a couple of different brands of mascara (I like to pair Benefit Cosmetics They're Real Beyond Mascara with L'Oreal Paris Voluminous Original Mascara).
Phew! That was a lot of different techniques with a ton of great products!, and I hope these tutorials help you as much as they've helped me!
This post contains affiliate links.
If you found these makeup tutorials helpful, please share them on Pinterest!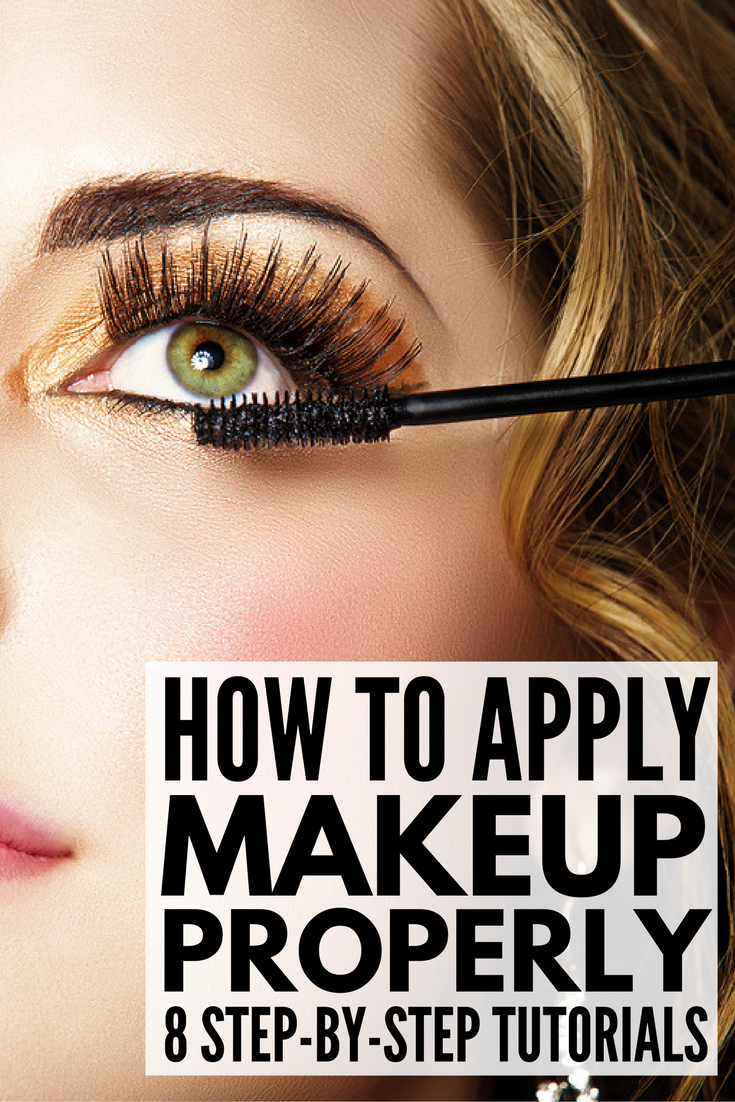 And if you're looking for more beauty tips and tricks, please follow our Beauty board where we share all kinds of fabulous finds!